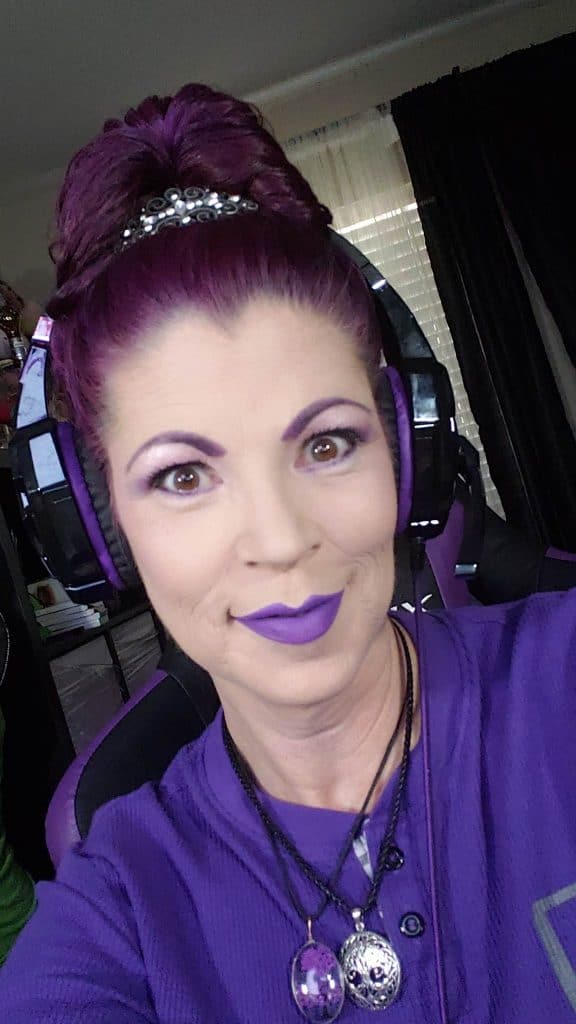 The Violet Mystery is a Twitch Online Streamer.  Violet currently plays a variety of games.  For poker, she plays mainly micro to low stakes Texas Hold'em Poker online.  She enjoys MTTs as well as Sit n Go style games, yet prefers Turbo/Hyper Turbo format.  For other games, she likes to play Match Games and wild Driving Games.
Violet resides in North Texas with her husband and one of her children.  As the lead female to a blended family, she is a mother to 9 and grandmother to 6.  She has been a Girl Scout and Boy Scout leader alongside other leadership roles in various community volunteer projects. 
Violet spent the better part of 2 decades growing in the corporate world learning business operations and marketing.  Having busted out of the rat race, she pursued an art gallery, photography, web design, filmography, video/motion graphics and more.  She now maintains an online innovations business while she follows her new found passion of online streaming and positive community building! 
In addition to streaming, Violet also supports the stream community with digital assets for other streamers.  She assists with OBS set ups, overlays, alerts, banners, websites, and so much more!  She has become a key contact for new streamers wanting to know how to get started and providing the start up resources.
Violet has enjoyed playing different styles of poker throughout her life, mostly in just a casual friend-gathering environment.  It was early 2017 when her husband introduced her to Americas Cardroom, an online poker site.  Her intrigue for "real" poker was ignited. She began to play in home games with a few of ACR Stormers and loved every minute!  Thursday night poker with the DrewCrew was always something she looked forward to.
Having roamed a little with poker rooms, Violet discovered that it was the community she had created online that she loved the most.  In late 2021, she decided to build upon that and worked with ACR to create the Ladies Night Lounge – a community focused on the positivity of Women in Poker.  In July 2022, Violet celebrated 3 years as an ACR Stormer and she continues to build her community and learn the game!
A Little Q & A with Violet about her First Year Streaming
What was your introduction to poker and how has it progressed:
I started playing *backyard* poker as a child.  We used pecans for our chips and of course was just for fun but it gave me a love for card games with risk.  In the early 90's I played some "at-home" nickle ante 5-card draw on Friday nights with friends.  I realized at that point that poker was not just a *matching* game – lol.  Fast-forward to 2007…I was introduced to live poker in a bar and Texas Hold'em.  I quickly ranked up the local leaderboard and fell in love with the game.  Being in a non-gamble state, it was just entertainment and I didn't take it seriously.  Zip through another decade to 2017 and you find me being introduced to Americas Cardroom…thanks to the hubby.  The Stormer home games became something that worked into my weekly routine…something fun to look forward to at the end of long work days.  I began playing ACR regularly in games other than home games in early 2019 and haven't stopped.
How did you discover Twitch?
I sort of knew about Twitch as I have children (well, they are adults now) that stream games but never really paid attention to everything on it.  It was just something "they" did.  My husband found BetOnDrew on Twitch in 2017 and this was the  ACR Stormer Home Game that made my weeks worth it! Thursday night poker fun online was something to look forward to during the dredge of the week.
What motivated you to start streaming?
It was literately a wrong step…in the right direction.  In February 2019, I broke my inner right foot and was off work for a few months.  My husband suggested I try streaming poker while off work.  So I set up a stream using an older flat screen tv as my second monitor and my husbands mic…sitting in my closet!  After a couple months of doctor visits and therapy, I realized the foot was never going to be the same.  Days of standing for 9+ hours at a time were done.  I am a people person.  I love being able to make a difference in someone's day…even if it is just passing a smile along.  Since becoming a part of the Twitch Poker Community, I feel like I have an online family!  I am a happy Violet Mystery!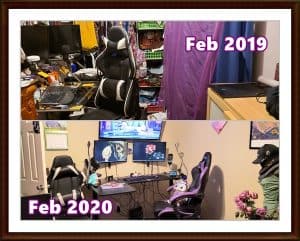 When was your first stream and how did it go?
I remember the date…February 22, 2019.  It was like nothing I expected.  First stream, I didn't think anyone would come visit, let alone help me out.  Botlady, N2MBacon, OSULoggy and some others came in to my channel and welcomed me in with "open arms".  They quickly gave me tips on modding and the tools to make life easier in streamland.  Then they proceeded to invite everyone they knew to my channel.  It was an emotional week.
What do you feel you are best know for around the Twitch/Poker community?
My stream family tells me that they love coming to the channel because I carry a positive vibe and have a charismatic energy.
I remember landing in a channel late last year and was greeted with "…Violet…omg, you're a Legend…".  I clipped it as I wasn't sure what I had just heard.  Thank you TSB253 for making my night!
I have since landed in various other channels around the globe that call me "a legend".   Apparently, it is my monthly marathon poker runs of 24+ hours which have earned me that accolade and I am humbled.
What are some of your accomplishments and highlights from your first year?
There were several milestones for a first year streamer that I feel proud to have accomplished.  Zipping through the steps on Twitch to become an affiliate inside a week was unreal to me.  Raids from some of the larger streamers that I admired (i.e. Vanessa Kade and BetonDrew) were emotional and inspiring.
Becoming a member of the ACR Stormers Stream Team was a true honor.  At the time, acceptance into the program was not open for general application.  When I got the call from SnostnLost on July 2, 2019 inviting me to the Stream Team, I was elated!  My new dreams were moving along…and so much faster than I could have even hoped for.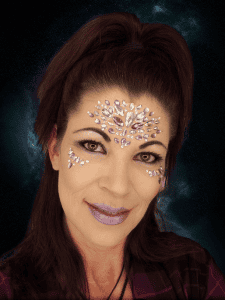 The continued love and support of the community when I put up the goal to attend TwitchCon 2019 was unexpected.  I felt as a new streamer, the financial goal was high.  I did not know of any other poker players that were going…so the adventure felt like a first for the community.  We made the goal!  The journey I took with my children that stream, the new friends I made there, and what I learned is something to hold for a lifetime.
I played a few regular low stakes games with high guarantees in 2019.  In one of the many games I played, I placed 18th out of over 2K entries for a GTD of 12.5K that ended up being over 21K which was very exhilarating! The hype from the stream kept the energy high!
Upgrading my stream studio from the closet to it's own room was a slow process.  I started with a tv/monitor with a 7yr old pc set up on a student desk in a closet.  First came the monitor upgrades, then a slight pc upgrade, then a larger monitor and larger desk.  Newest additions include a Yeti Mic and awesome Dowinx gamer chair – of course in purple!
I celebrated my one year Twitchaversary with a 21 hour stream full of hype and love of the community.  I spun into the Sunday OSS Million GTD event for $1.75.  Sadly QQ didn't hold…but the wonderful experience that brought so many smiles and laughter will last infinitely!
I certainly am looking forward to a continued relationship with ACR Stormers as we build an amazing community.  Ladies Night, which is a project driven out of passion for poker between Botlady and myself, will continue to grow.  The experience of working with Kingsfull24 on TOK has helped my vision for an e-sports style Poker League.  Attending TwitchCon 2019 and meeting up with some poker pals and ACR reps was a marker for sure.
But I think the highlight will be making a live meet up event with my fellow Stormers for an in person game will be an amazing time without a doubt.  The best part of this trip would be to experience my first live poker play in a real MTT with my friends!  <Unfortunately, this event was cancelled due to COVID>
Overall, I just want to continue what I have been doing…spreading positive vibes and happy moments but on a much bigger scale and share my poker journey with my ever-growing new online family!